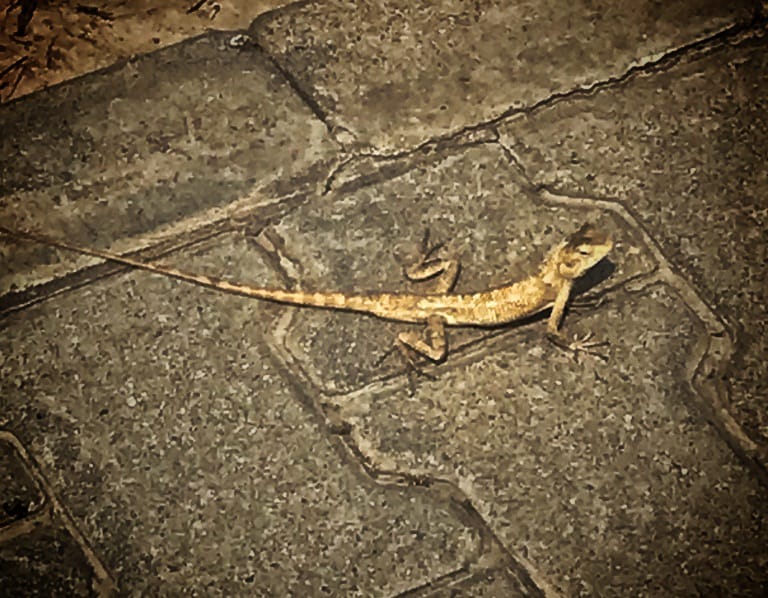 Oriental Garden Lizard

Species

Families

Local Names

Genus

Native/Introduced

DNA Barcode
Description
Oriental Garden Lizard
The oriental garden lizard, eastern garden lizard, Indian garden lizard, common garden lizard, bloodsucker, or changeable lizard (Calotes versicolor) is an agamid lizard found widely distributed in indo-Malaya. It has also been introduced in many other parts of the world.
It is an insectivore and the male gets a bright red throat in the breeding season. It measures over 10 cm (3.9 in) in length snout-to-vent. Total length including the tail is up to 37 cm (14.5 in).[2] Two small groups of spines, perfectly separated from each other, above each tympanum. Dorsal crest moderately elevated on the neck and anterior part of the trunk, extending on to the root of the tail in large individuals, and gradually disappearing on the middle of the trunk in younger ones.
The native range of the species includes SE Iran, Afghanistan, Bangladesh, Bhutan, Cambodia, China (South) (Yunnan, Guangdong, Guangxi, Hong Kong, Hainan Island), India (including the Andaman Islands), Indonesia (Sumatra), Malaysia (Western), Maldives, Mauritius (Reunion, Rodrigues), Myanmar, Nepal, Pakistan, Philippines, Sri Lanka (Ceylon), Thailand, Vietnam (including Pulo Condore Island). The Changeable Lizard is relatively common and found in a wide range of habitats. They appear to adapt well to humans and are thus not endangered. They are commonly found among the undergrowth in open habitats including highly urban areas. However, in China people regularly kill them due to which they are becoming rarer.